Rob Farella



{}


  Yoga Instructor
"Just do a little every day"

Rob Farella

After my first yoga class in 2004 I was hooked and quickly progressed in the study of yoga and eastern philosophy. An instructor since 2007, I received my 200 hr. yoga certification and registration with Yoga Alliance in 2010. Bringing more men to this practice is my passion. I bring a deep love of all aspects of yoga to my classes and encourage my students to develop a home practice with the mantra of  "Just do a little every day".

My classes provide clear instruction on the proper alignment of foundational yoga postures and breathing. No two classes are exactly the same, allowing you to experience, practice and master a variety of basic yoga poses that build strength, increase flexibility, improve posture and decrease stress. Recommended for beginners who want a solid foundation to build from, and also great for experienced students who desire a gentle pace.

Schedule

Sunday



4:00 - 5:30 pm

Yogaspace



"Yoga Community Class"
Tuesday



7:30 pm - 9 pm

Yogaspace



"Yin Yoga"
Saturday Oct 10th           2 pm - 4 pm

Yogaspace



"Partner Workshop"
Privates By Apointment

Favorite Links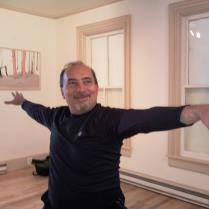 Contact Information

Follow me on Facebook

Phone : 203 300-1893